In this tutorial Install Jackett Windows. We are going to install Jacket on a computer with Windows .
Jackett download Windows
Download the latest version of the Jackett.Installer.Windows.exe
https://github.com/Jackett/Jackett/releases/tag/v0.7.1523
install Jackett Windows
If you downloaded Jackket. Then start the Jackett.Installer.Windows.exe
Check the Install as a Windows Service should be on. Dit zorgt er voor dat Jackett wordt gestart als Windows wordt gestart. Klik op Next >.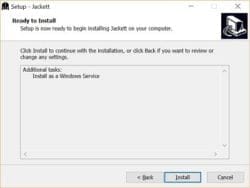 Click Installnow. The installation is now underway. And a few MS-dos screens appear.
Click Finishnow.
Jackett's installation is now complete.
You can access Jackket via your browser at the following address http://127.0.0.1:9117