In this Sonarr install Synology tutorial. let's install Sonarr on a Synology NAS system. Sonarr is a very nice program to automatically download TV series from the newsgroups, and via torrent files. In this tutorial we will only discuss the newsgroups.
Sonarr Synology Installatie voorbereiden
Before we can install Sonarr, we need to add the download source first if it hasn't already been done on your Synology.
We'll be the first to add the following repository http://packages.synocommunity.com if you haven't already. You open your browser and go to your Synology NAS webpage.
If you are logged in, go to the Package Center.
Then choose Settings.
Go to the
Package Sources
tab and click
Add
.
Enter a Name and at location enter the following "http://packages.synocommunity.com" Now click OKand OK again.
Installing Mono Synology
We also need Mono for Sonarr.
If you have already installed this package, you can skip this step.
Scroll down and click Community.
Find Mono here and click Install.
If you don't come across Mono, do the following. At the top of Synology, go to Settingsand click the Betatab. Tick the box here. Yes , I want to see the Beta versions!
Install Sonarr Synology
Now we can start installing Sonarr on your Synology.
Scroll down and click Community.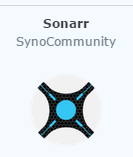 Locate Sonarr and click Install. When the Installation is finished you can access Sonarr via your browser at the following address http://your-ip-address-local:8989 The installation of Sonarr is now ready. Of course, this still needs to be configured. But before you do that, you must first make sure that SABnzbd is installed on your Synology. Otherwise, be the first to install SABnzbd Synology tutorial.