In this guide, streaming movies is Windows. I'm going to explain how to stream movies with the VLC program. To your Google Chromecast.
Make sure you have the latest version of VLC player. Otherwise, you may not be unable to stream.
Install VLC player
We need to be the first to install VLC. If you haven't already.
You can download the latest version of VLC player from: http://www.videolan.org/vlc/download-windows.nl.html .
If VLC is downloaded. Start the Setup.exe.
Now select English. And then click Ok.
Now Next.
Then Nextagain.
Press Next.
And now click Install.
We're going to have to wait a minute.
When the installation is complete. Then click Finish.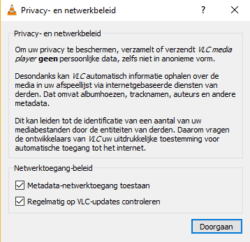 VLC will now start.
You will now receive the above notification.
Now click Continue.
Stream movies with VLC
The Google ChromeCast must be online. The HDMI and USB cable of the Google ChromeCast must be connected. If you turn on the Google Chromecast. Then it may take a while for it to be available. If you see a background. Then the Google Chromecast is ready to stream. We can now stream movies on Windows.
Now go to the program VLC.
Click Play. Then Renderer.
You will now see your devices where you can stream to here. In this example I stream to the Sport room. The Dining Room in this case is a Google Mini. It only supports sound hence a different icon.
Now click On Media and then Open.
Look up the file you want to stream.
You can now get this message. Click Ok, don't warn me again.
The file will now be streamed to your Gooogle ChromeCast.
This was the Video Streaming Windows guide to your Google ChromeCast.