On the Softtrack.live you can find nzb links to Games, Phone apps, and Software. Unfortunately you will not find music and movies here.
Create softtrack.live account
Create an account on Create an account here.
Fill in the above information.
You now get the screen above.
You will now receive an email with an activation link. Open this link.
You must fill in the above details. Woonplaats = residence Uw naam = Your name. (make something up)
Downloading from Softtrack
You can now choose from the Options Free. For the rest, you have to become a VIP. (pay)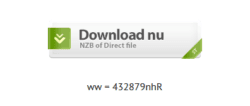 You will then see a Download nu button at the bottom of the page. This button wil rederict to the nzb file.
The ww is the password you need to enter. In your Usenet download program. Otherwise, downloading from the newsgroups will fail.
In NBZGet you can do this the following way. Enter NZBGet password.
If you click on download now you will be directed to Nzbindex.
Here you can search for the NZB and then download file, check the box and click on Download selected.
You can now import the nzb file, in your Usenet download program as Sabznbd.